How to animate realistic Madness Combat
Hello everyone, I created this shit guide for animators who are trying to make their animations more similar to realism, but it turns out very bad and even awful. Well, at first you want to mention such animators as @BotDon, @Ecklemir, they have very good examples of works, so that after the guide you will be able to watch some of their animations.
To animate as well as they do, you need not only to animate slowly and smoothly (this is not enough), but also to know the recoil of the pistol, several starting poses of the characters, the perspective for creating backgrounds, knowledge of the weapons of weapons, to draw and animate at least close to realism .
We will analyze the recoil of weapons (pistols, smg, riffle, shotgun and others)
A few good examples of good recoil pistol - https://www.newgrounds.com/dump/item/996c9c8517a9b2651c963871984fc76a ( Bot Don )
https://www.newgrounds.com/dump/item/2eafe10080663b0d9cbc87b69aa55119 ( Bot Don )
https://www.newgrounds.com/dump/item/47ef1e65118cfb1a369dd35664bf63bb ( Bot Don )
Okay, after a few examples, it's time to tell how to make the same cool recoil as Bot Don, as Bot Don told me, 2 frames enough to give a pistol. Yes, yes, do not be surprised two frames and that is enough.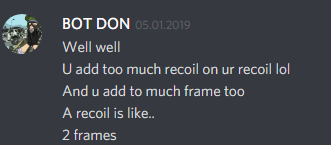 To convince you, you should watch a few YouTube videos about gun recoil and other weapons.
Like this - https://www.youtube.com/watch?v=zoxBy9rVwtg
With automatic weapons and other types of weapons, 3-4 frames are enough for you, but just consider the weight of the weapon and what parts are added to it (for example, a silencer - then make a return also 3 - 4 frames but smooth not sharp but smooth)
Some good games for understand recoil
Starting poses
I will show you a very good example where everything is explained and written.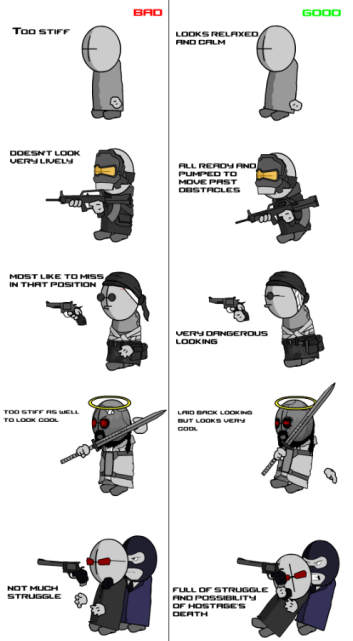 This all by madmanaryf ( Say thanks him later )
Perspective backgrounds
I will be honest, I myself am very bad in this area, so I will give you a few games of tutorials on this topic.
Drawing wounds and gore
Thanks @Thece for this tutorial "How to draw gore"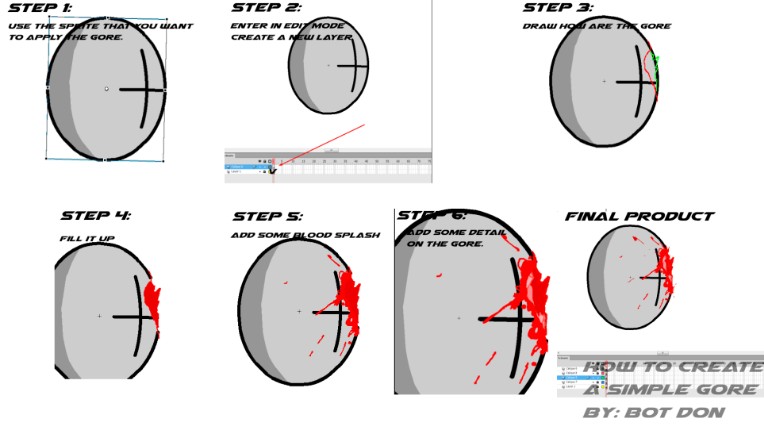 Conclusion
My guide comes to an end, for me it was a pleasure to write it (I hope at least someone will read it). In conclusion, I want to say that in order to make your animations look more realistic, use good and high-quality sounds, I'll leave you two links to these sounds (Sounds by Ecklemir)
Thanks for attention!
Special thanks for @BotDon, @Ecklemir, @Thece and madmanaryf
And for Madness Combat creature @Krinkels!